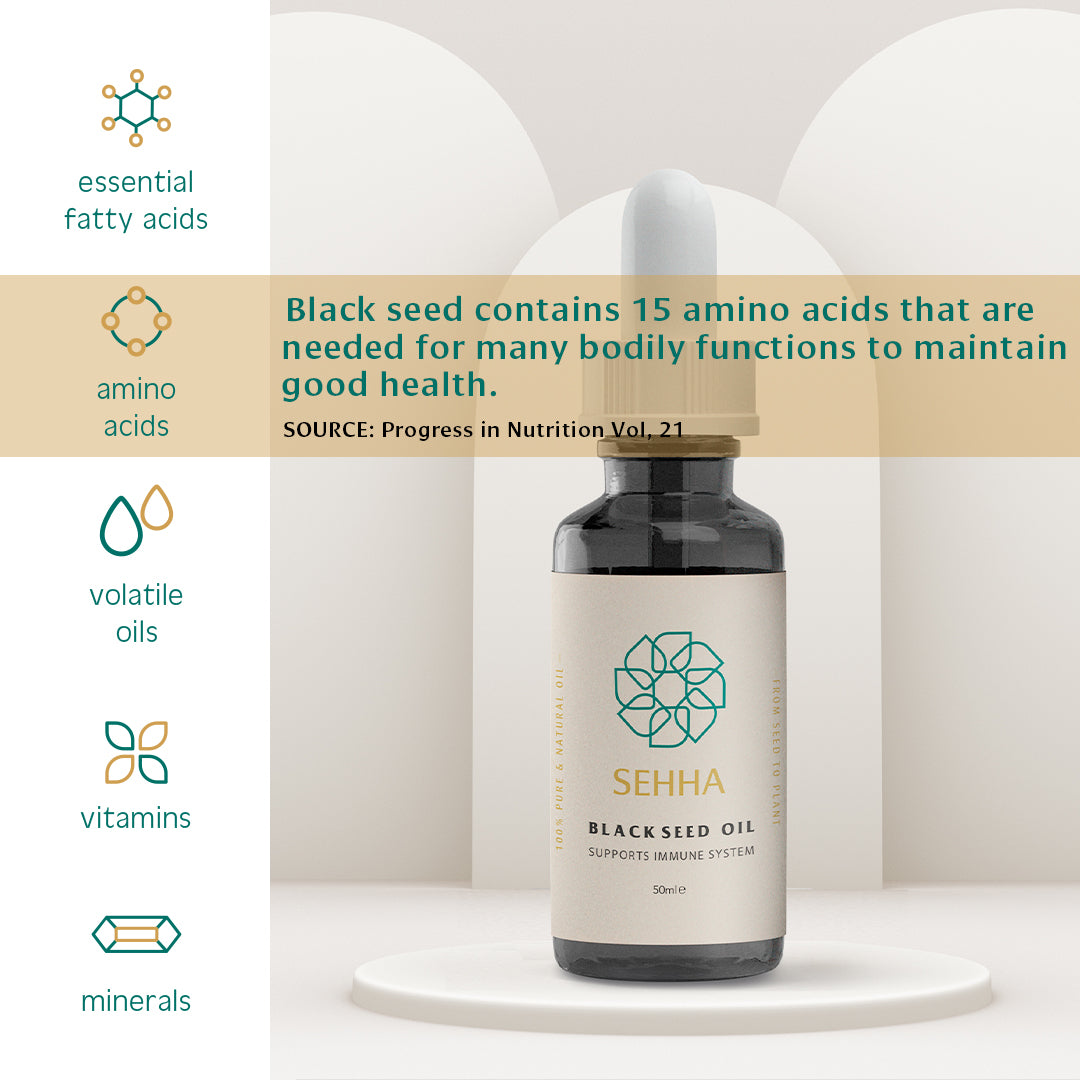 Top 5 Benefits of Black Seed (Nigella Sativa) - Part 2
Top 5 Benefits of Black Seed (Nigella Sativa)
The COVID-19 pandemic has highlighted to all of us how vulnerable and unprepared we are. And what better way to become more prepared to face pathogens than tapping into nature and using some of its countless herbal remedies?
One of the lesser known natural remedies is Black Seed, scientifically known as Nigella Sativa. Also referred to as black cumin, black caraway or fennel flower1, black seed has recently received a lot of attention due to emerging studies that have shown a wide array of benefits to people who consume it. But its true popularity only came with new research indicating black seed oil might help with weight loss2 3.
Black seed is a small annual plant with blue or white flowers and black-coloured seeds. In the United States, it is listed as GRAS ("Generally Recognized as Safe") when used as a spice/natural seasoning and flavouring 4.
So what are the top 5 benefits of black seed and why should you consider giving it a try?
Brain health. Alzheimer's disease is one of the most prevalent and heart-breaking chronic diseases of the 21st century. But even though much research has been conducted in how to treat and prevent it, there is still no one successful treatment protocol. That's why early studies suggesting that the thymoquinone in black seed oil may reduce neuroinflammation linked to diseases like Alzheimer's and Parkinson's are very promising7. Despite the fact that there are very few studies showing an improvement in humans, a select few have shown an increase in memory, cognition and attention of older adults8.
Type 2 Diabetes. Type 2 Diabetes (T2D) is one of the leading causes of death and disability worldwide. Given its prevalence and morbidity, it's also one of the most researched chronic diseases – and rightfully so. In individuals with T2D, black seed capsules have been shown to improve all diabetes markers. More specifically, black seed capsule supplements, taken together with oral diabetes medication, were shown to decrease blood sugar levels, decrease insulin resistance, improve beta cell function in the pancreas and reduce HbA1C levels9.
Asthma. Extensive research has shown that black seed taken orally in combination with asthma medicines can improve lung function, as well as coughing and wheezing in some people with asthma, particularly in those with low lung function before treatment. This beneficial effect has been attributed to thymoquinone, which reduces inflammation and relaxes the muscles in the airways10.
While this top 5 benefits of black seed list is not exhaustive, it highlights the promising areas for research and proves that black seed should be more of a staple spice or supplement in more people's diets. Available in powder, capsule and oil forms, black seed is a potentially potent ally in fighting chronic diseases and improving health.
Before trying black seed or black seed oil, consult with your healthcare provider to establish the best dose for you.
By Andreea Nitescu for Sehha
RD MSc BSc
We artisanal cold press the highest quality Black Seed Oil here at Sehha. All done in-house, by us - for you. Without the use of chemicals, or third party pressers, each and every single bottle is handcrafted with love, care and attention. Our customers attest to the premium quality of our Black Seed Oil and we are proud to make Black Seed Oil accessible to one and all. Start your journey to better health today and order your bottle today! 
References
United States Department of Agriculture. Taxon: Nigella sativa L. [Online]. Available from: https://npgsweb.ars-grin.gov/gringlobal/taxon/taxonomydetail?id=25337.
McGrane K. What Is Black Seed Oil? All You Need to Know. [Online], 2020. Available from: https://www.healthline.com/nutrition/black-seed-oil.

Amin F, Islam N, Anila N, Gilani AH. Clinical efficacy of the co-administration of Turmeric and Black seeds (Kalongi) in metabolic syndrome - a double blind randomized controlled trial - TAK-MetS trial. Complement Ther Med. 2015 Apr;23(2):165-74.

US Food & Drug Administration. CFR - Code of Federal Regulations Title 21. [Online], 2020. Available from: https://www.accessdata.fda.gov/scripts/cdrh/cfdocs/cfcfr/cfrsearch.cfm?fr=182.10.

Yimer EM, Tuem KB, Karim A, Ur-Rehman N, Anwar F. Nigella sativa L. (Black Cumin): A Promising Natural Remedy for Wide Range of Illnesses. Evid Based Complement Alternat Med.; 2019: 1528635.

Mahdavi R, Namazi, N, Alizadeh M, Farajnia S. Effects of Nigella sativa oil with a low-calorie diet on cardiometabolic risk factors in obese women: a randomized controlled clinical trial. Food Funct. 2015 Jun;6(6):2041-8.

Wang Y, Gao H, Zhang W, Zhang W, Fang L. Thymoquinone inhibits lipopolysaccharide-induced inflammatory mediators in BV2 microglial cells. Int Immunopharmacol. 2015 May;26(1):169-73.

Shahdaat Bin Sayeed M., Asaduzzaman M, Morshed H, Hossain MM, Kadir MF, Rahman MR. The effect of Nigella sativa Linn. seed on memory, attention and cognition in healthy human volunteers. J Ethnopharmacol. 2013 Jul 30;148(3):780-6.

Bamosa AO, Kaatabi H, Lebdaa FM, Al Elq AM, Al-Sultanb A. Effect of Nigella sativa seeds on the glycemic control of patients with type 2 diabetes mellitus. Indian J Physiol Pharmacol. Oct-Dec 2010;54(4):344-54.

Black Seed [online]. Available from: https://www.webmd.com/vitamins/ai/ingredientmono-901/black-seed.